Happy Birthday Crystal Princess!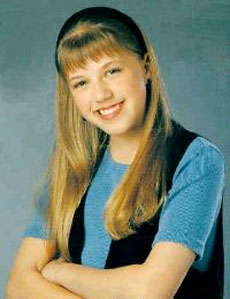 You've been waiting for this day. You had to wash down your vicodin with a shot of tequila last night just to get some sleep. It took all the concentration you had not to drive your car off the road and into a telephone pole this morning.
That's right. It's
Jodie Sweetin's
birthday.
And how will she be celebrating this year? Probably
tweaking with Tina
.
How rude! Get off the junk, honey! What would Kimmy Gibbler say?
It makes me recall that time I waited in line for
minutes
to get a chance to talk to Stephanie from Full House at the Viewmont Mall in Scranton before finally giving up and screaming obscenities about her and her dog Comet way back before I started college. *Sniff* I promised I wouldn't cry. I got an autographed picture of Jodie Sweetin that I kept inside my mini-fridge for my entire freshman year.
Otherwise...yeah. Slow day.
Giant
jellyfish
are attacking Japan!
Dolly Parton
turns 60 years old!
Miss Virgin Islands
needs to win Miss America!
Nervous Breakdown
might get sued!
Janette?
She's totally the c-word!
Hey, overrated pap, now in
paperback
!
Ok, that's all the fake enthusiasm we can muster for the day. Wait, one more...
Get well and Happy Birthday Jodie Leanne Sweetin!!!